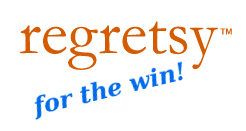 Regretsy received a nasty-looking lawyergram claiming copyright infringement, requesting retroactive licensing fees and implicitly threatening a lawsuit to collect damages.  What was their sin?
Apparently, that they had used the images in question for purposes of commentary — specifically, negative commentary.  Regretsy posted a mocking review (okay, a really, really funny mocking review) of objects being offered for sale, reproducing the seller's own photograph of the objects.  The seller tried to shut down the negative review by claiming that Regretsy didn't have the right to reproduce the photograph.  But the seller had never claimed copyright infringement on other, positive reviews elsewhere — as Regretsy delightfully pointed out, in several instances she had even posted in those other forums herself thanking the reviewers for their kind comments.  So this was clearly not about copyright.  This was about silencing a critic, using copyright as a tool of censorship.
We take no stand on whether Regretsy's claim of "fair use" is legally accurate (we don't even much like the term), nor on the quality of the objects or the photograph.  And we certainly don't mean to imply that Regretsy takes any particular stance on copyright reform themselves (sometimes they even confuse plagiarism with unauthorized copying, calling them both "stealing" when only the former is.)  But they knew censorship when they saw it, and they called it what it is, in style.
We see examples like this overzealous seller all the time.  How often is copyright used as a cover for censorship, commercial or otherwise?  It's hard to say, because unfortunately , even though copyright is a government-granted monopoly, the governments that grant it make no requirements for tracking how it's used.  If every claim of infringement had to be delivered through (or CC'd to) a database at the copyright office, so we could see exactly how these monopolies are wielded, that would be give us some real information about whether copyright principally serves even its nominal goals.  Also, people might suddenly become a lot more conservative about claiming "infringement".  Right now, all it costs to intimidate someone is the time it takes to send a letter (and the larger intimidators have automated even that part, so the cost is very close to zero for them).
In any case, hats off to Regretsy for publicly calling out censorship when they saw it.  Monopolies on information and culture inevitably lead to infringements on freedom of speech and commentary; it's great that Regretsy didn't take the easy way out when someone tried to censor them.