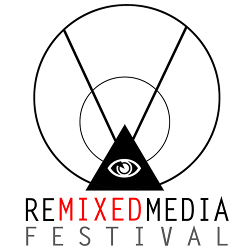 We've been fans of what the RE/Mixed Media Festival is up to ever since we first heard about it in 2010.  Now they're in their fourth year!  The next one will take place at the New School in New York City, the weekend of April 26-27.  They've kindly offered our readers a registration discount, too — use the promotional code "QUESTION" to get 50% off.
In their own words:
RE/Mixed Media Festival, taking place on April 26-27 at The New School and CultureHub, is an annual celebration of collaborative art-making and creative appropriation. It's the artists' contribution to the ongoing conversation about remixing, mashups, copyright law, fair use, and the freedom of artists to access their culture in order to build upon it. Each year, the festival features performances, panel discussions, workshops, electronic remixing/hacking, sampling, film & video, fashion, DJs, technology, interactive installations, painting, sculpture, software, and much more.

Now in it's fourth year, RE/Mixed Media Festival is a hybrid event – a marriage of art exhibition and critical academic conference, a forum where artists, activists, scholars, musicians, writers, entertainment professionals, and policymakers come together to collectively re-examine the role of creative appropriation in the arts, and the roles of artists, government and industry in creating and maintaining a free and open culture.

RE/Mixed Media Festival IV is pleased to welcome media theorist Lev Manovich and author David Shields as keynote speakers, as well as the NY opening of DJ Spooky's international art and design exhibit, The Imaginary App. Other 2014 artists hail from 13 countries, and include 15 students, alumni, and faculty from The New School of Public Engagement's School of Media Studies and Parsons The New School for Design. Past artists and scholars have included Moby, Steinski, Ricky Powell, Ryuichi Sakamoto, Jesper Juul, Nitin Sawhney and over 150 other artists, performers, educators, activists, musicians and DJs.
Details:
   Saturday, April 26
      10 AM – 5 PM: The New School
         Theresa Lang Center and Dorothy Hirshon Suite: 55 W 13 St.
         The Auditorium at 66 W 12 St.
         Anna Maria and Stephen Kellen Auditorium, 66 5th Avenue.
      6 PM – 10 PM: CultureHub, 47 Great Jones Street
   Sunday, April 27
      10 AM – 6 PM: The New School
         Theresa Lang Center and Dorothy Hirshon Suite: 55 W 13 St.
NOTE: Registration and check-in will take place at Theresa Lang Center on both Saturday and Sunday.  See remixnyc.com.