QuestionCopyright.org's pro bono General Counsel Karen Sandler took part in a panel this past Wednesday at the music conference of South by Southwest: Set Your Content Free (It's Harder Than You Think).
Moderated by Michael Petricone of the Consumer Electronics Association, the panel also had Hank Shocklee (of Bomb Squad/Public Enemy fame), Julie Samuels of EFF, and Paul Geller of Grooveshark: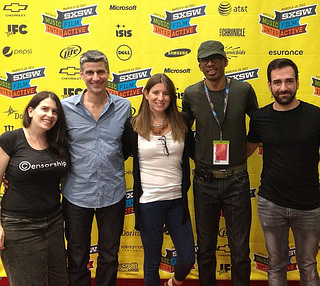 Karen's writeup is over at her GNOMG blog, so please check it out there (for the sake of keeping comments centralized in one place).
Many thanks to Karen for representing!  And note her awesome t-shirt: you can have one too.