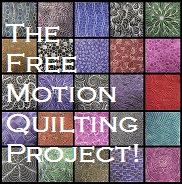 Why are we loving Leah Day's Free Motion Quilting Project right now?
It's easier to quote than explain:
"Please feel free to use any of the designs shared in The Free Motion Quilting Project within your quilts.  There are NO restrictions on where you can use these designs: for sale, show, gifts, or personal use."
But wait, it gets better:
These quilting designs aren't even copyright-able!

All of the designs from The Free Motion Quilting Project represent ideas.
Think of it this way: how many times in your life have you seen a spiral? …
The rest of her copyright page lives up to that promise, too. It's such a pleasure to see an artist so completely get it.
Another instance we've seen recently is Arrangers Against Copyright (or as one might call it, "Musicians In Favor of Being Allowed to Earn a Living").
Is it Spring, or did freedom come early this year? Let's hope the trend continues…