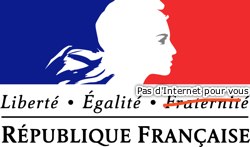 Thanks to Jeff Ubois for bringing this one to our attention…
Internet users in France who illegally download too many times will risk having their Internet connection taken away by court order. No, I'm not making this up: read about it in The Guardian, Tech Crunch, The New York Times, and the French Pirate Party's page (with English) about it.
The French Pirate Party (PPF), at the above link and elsewhere, is doing a good job of articulating what's wrong with this — aside from the fact that the content providers don't need their own taxpayer-funded private police force anyway, that is. As the PPF points out, the new measure will result in:
"filtering of internet content" (they have to watch you to catch you)

the "creation of an independent authority, parallel to justice, able to terminate internet access of users, and to punish any ISP that wouldn't comply" …and if that sounds like hyperbole to you, remember how utterly compliant state police forces generally are when the Business Software Alliance or local equivalent requests a raid — the PPF is absolutely right to be worried.

"creation of a national directory of such 'terminated' users." I haven't read the new law, but I assume the PPF has and is reporting accurately. So apparently, once you've been caught — gasp! — downloading some bits you didn't pay for, it's clearly important to make sure you never commit this heinous crime again.
(There's more translation at Bruce Sterling's blog.)
I haven't read the details of the new law, and at least one commenter thinks there's less to worry about here than it might at first appear. But these sorts of state-industry alliances haven't done too well for citizens in the past. It is highly unlikely that nuances of "fair use" (or whatever the local equivalent is — French law is different in this regard) will be respected. Many of the commenters pointed out how this law could easily be used for political censorship. One gave the example of unauthorized videos of police actions: if the copyright holder for the footage is a news organization with an interest in maintaining good relations with the government, then citizens who redistribute the images might now be risking their Internet connection
The best interpretation here is that the government of France has completely bought into industry propaganda about how artists need copyright to survive. That's already pretty disappointing, especially in a country where the government itself funds so much artistic activity, thus belying the very assumptions on which this new law is based.