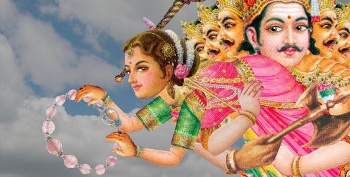 Sita Sings the Blues will have a week-long run in New York City's IFC Film Center, December 25th – 31st! January 5th! January 26
This is was a full theatrical run, with 7-8 screenings a day. The filmmaker, Nina Paley will be doing Q&A after the 8:25pm shows most nights. On Monday, Dec. 28th, the conversation will be about the film's free distribution model and the free culture movement.
It's kind of unbelieveable that this thing has been extended for 5 weeks. Granted, it's down to just one show a day now. But we only thought it would run one week, so this run has exceeded everyone's expectations.
Tickets are available online. Here's a show schedule (click on the time to purchase tickets for that show):
Woo! New showtimes – Click on the time to purchase tickets for a screening.
Nina says, "I'm doing Q and A's tonight and tomorrow after the 8:30ish shows, then Friday and Saturday after the 4:40pm shows. Then I might take a little break, who knows." no more Q and A's – they were fun for the first 3 weeks though!
IFC Film Center has beautiful screens and is located at 323 Sixth Avenue at West Third Street in the West Village, right at the W. 4th St. subway station (A, C, E, B, D, F, & V subway lines).
Sita Sings the Blues is a terrific film; it won all those awards for a reason. Please tell all your New York friends — let's pack the house!