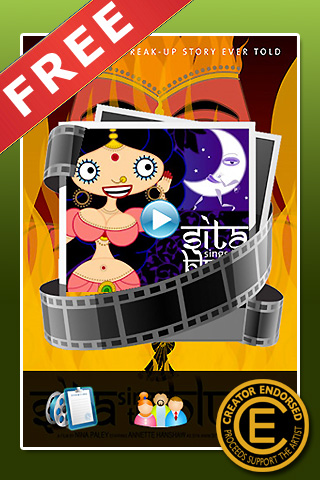 Sita Sings the Blues is now available FREE for the iPhone, rather than for $3.99. The former price was required because for every copy of Sita "sold," I had to pay almost $2 to extortionate corporate licensors. That's a flat fee; doesn't matter what the sale price is. So selling Sita apps for the customary $.99 would result in a huge loss for me, since I'd be paying far more than that to the licensors.
The solution of course was to make it FREE (gratis). They're all Promotional Copies. No sale, no license fee. To support Mars Yau, who created the app, and me, who created the movie, you can buy the Sita Wallpaper App for $.99. And of course you can always donate to the Sita Distribution Project.
I'm especially gratified by app develope Mars Yau's correct use if the Creator Endorsed Mark. It's displayed prominently on the free app, indicating my authentic endorsement of this particulr distribution. On the $.99 Wallpaper app, he applied the "50% supports the artist" version:
This lets potential buyers know that he will share with me 50% of his profits from the app. Since the wallpaper app is offered for sale as a way to support me and him (since the movie app is gratis) the 50% Creator Endorsed Mark is a selling point, adding value to it.