Perfect symmetry: J. D. Salinger complains that his book is censored, then J. D. Salinger turns around and censors someone else's book.
He probably wouldn't see it that way. He'd probably say he's "protecting his property" or something like that. But in fact what he has done is ban a book — a sequel someone else wrote to Salinger's book The Catcher in the Rye.
Salinger had other options. For example, if he doesn't like this particular sequel, he could simply not endorse it. In fact, given the extraordinary powers current copyright law grants him, he could even insist that the sequel be marked as "unauthorized", so that his name and reputation wouldn't be associated with it. (Of course, in a world where people didn't assume that a sequel must be authorized, even that step wouldn't be necessary.)
But instead of choosing an option that respects the freedom of readers and of other authors, he's suing to ban the new book. The usual pieties about freedom of speech ("the best antidote to bad speech is better speech") somehow melt away and magically don't apply for him, even though if he were asked, he would probably claim that he agrees with them. What is it about copyright, that it manages to sink so deeply into people's worldview that they cannot see censorship when it's right in front of their faces? When they're the ones doing the censoring?
On the other hand, the author of this sequel, Fredrik Colting, gets it:
"I am pretty blown away by the judge's decision. Call me an ignorant Swede, but the last thing I thought possible in the U.S. was that you banned books."
His lawyer, Edward H. Rosenthal, raises the free speech issue too:
"…members of the public are deprived of the chance to read the book and decide for themselves whether it adds to their understanding of Salinger and his work."
Though really, why should it even be necessary that the book add to anyone's understanding of Salinger's work? Maybe it does, maybe it doesn't. Either way, it still shouldn't be censored.
What can you do? Well, wear one of our ©ensorship shirts (women's and men's available in various sizes), and when someone asks you about it, tell them how copyright leads some authors to ban other authors' books. The back of the shirt has our web site address and logo: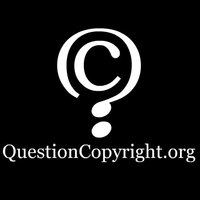 Wearing them really works, by the way. I wore one on a train recently and wound up having a great conversation about copyright with two people, one of them a musician coming back from a gig, after they asked me about the front.