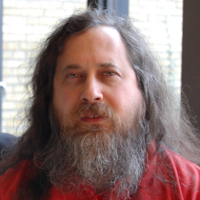 This is a bit of inside baseball [*] in the copyright reform world, so we'll understand if you wonder what the big deal is.  But for those of us who were first inspired — as I was — by Richard Stallman's radical and prescient commitment to software freedom, his unwillingness to go the whole way and embrace Free Culture for non-software works is puzzling.
Recently we had some correspondence with an Internetizen known to us only as "openuniverse" or "libreuniverse", who resigned his membership in the Free Software Foundation over Stallman's insistence on exercising his state-granted monopoly to prevent derivative works from being made of his writings and speeches.
I phrase it that way for a reason.  Elsewhere, you might see it expressed as "Stallman's insistence on using his copyright to control what can be done with his works".  But Stallman himself understands these issues very well, and could easily spot the unspoken assumptions in that way of putting it.  No one was asking to change his works, or to attribute to him thoughts or expressions not his. No one's existing copies of Stallman's works would be changed.  Rather, openuniverse wanted to make a new work, using material from one of Stallman's books — and Stallman quashed it.
Specifically, openuniverse asked:
i want to make a bash script (or python script) that is free software and contains the entirety of your book's text. (though it *might* have some parts in a different order, i'm not sure.)
(In this context, "script" means a computer program.)  Stallman's reply, which is consistent with what he's said elsewhere, was:
Sorry, you can't incude my essays in such a program.  Free programs can read my essays, but they need to be separate.
Note that Stallman did not say "Okay, just please make sure you adjust the attribution if you change the text" or anything like that (not that he would have needed to; it's a widely-followed practice in Free Culture and openuniverse would obviously have done so).  Instead, Stallman imposed a blanket restriction on openuniverse's freedom to use an existing work — or rather, took advantage of an unfortunate feature of modern law that grants him that monopoly power.  As openuniverse points out:
… they can't be synced with video. that means i can read the essays over a podcast, but no one can make a video that uses the podcast… not without "fair use" anyway, which won't apply to the whole essay that stallman wants intact.
What will it take to get Richard Stallman and the Free Software Foundation, who as much as anyone started the modern Free Culture movement, to see that the same freedoms they advocate for software are just as important for all works of the mind?
Well, openuniverse had one idea: a Stallman Remix Challenge :-).
…i really hope you'll consider hosting a "remix stallman" contest. the best goal is to have WORTHY remixes of his speeches and writing, stuff he insists be no-derivs so people won't take him out of context. i'd love to myself, i just don't have the reach your organization does, which daily reaches tons of people capable of remix.
I'm not sure we have the world-shaking reach openuniverse imputes to us, but for what it's worth, I think Remix Stallman is a great idea!  His writings can be found many places online — his website , his book "Free Software, Free Society", and the FSF's Philosophy section are good places to start, but a search will turn up plenty more, including videos of speeches he's given.  Some of his works are under restrictive licenses, others are not; you'll have to look for yourself and figure out what amount of legal risk you're willing to take (that's just one of the burdens copyright law places on remixers).
But we hope some people will try.  A well-done remix is a thing of beauty, and can be far more effective than any "straight" argument.