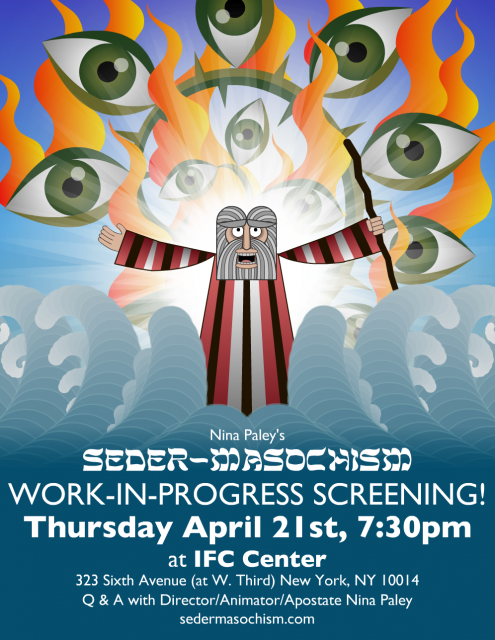 Thursday, April 21st, 7:30pm at IFC Center in New York City (323 6th Ave)
Work-in-Progress screening of "Seder-Masochism", the upcoming new film by Question Copyright Artist-in-Residence Nina Paley.
Q&A to follow.
Advance ticket purchase required.

 This is not the finished film.  This is about 40 minutes of in-progress work — the core musical scenes, featuring, in Nina's words, "Goats! Egypt! Plagues! Death! Idols! Commandments! Unsubtle phallic imagery! …and MORE!"  (And free matzoh.)  Q&A with Nina Paley will follow the screening.
Props to GKIDS for arranging this event!
See the announcement on Nina's blog for more about the film, including a great set of sample stills and animations.
If you like Nina Paley's work, and you like the fact that she supports her audience's freedom to share, please consider donating to to the Artist-in-Residence Working Fund.  QuestionCopyright.org is a 501(c)(3) organization and donations are tax-deductible in the U.S.