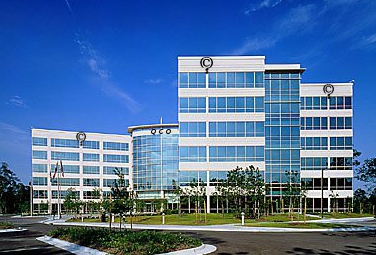 Well, it's been a long time coming: we moved into our new headquarters this weekend.  As you can see, at last there's room for all our staff — no more doubling up at desks, no more working in shifts, no more waiting lists for parking spaces.  We're really looking forward to finally being able to fit everyone at the all-hands meetings!
Many thanks to the recent donors who made this possible, especially the RIAA, MPAA, and Disney.  Without their steadfast support, we wouldn't be where we are today.
Modern, state-of-the-art buildings like this don't come cheap, of course.  Although we're convinced the new headquarters is the right decision for the organization, we thought it would be wise to start a capital campaign now to cover grounds maintenance, heating and cooling, electricity, and, of course, the snack budget.  There's a full kitchen on every floor — our dedicated associates will need fuel to fight for your freedoms effectively.
If you'd like to support us in our new home, please donate today!