Released under a Creative Commons Attribution-ShareAlike 3.0 license. All Creative Work Is Derivative by Nina Paley, is the second meme of our Minute Memes series. It was supported by a grant from The Andy Warhol Foundation for Visual Arts.
View at YouTube or download high resolution and OGG formats at the Internet Archive.
Subtitles:
Message: All Creative Work is Derivative.
Why: Copyright control extends not just to verbatim copies, but to "derivative works." This has led to censorship on a grand scale. For example, the seminal German silent film "Nosferatu" was deemed a derivative work of "Dracula" and courts ordered all copies destroyed. Shortly before his death, author J.D. Salinger convinced U.S. courts to censor another author who transformed his characters. And so on.
The whole history of human culture evolves through copying, making tiny transformations (sometimes called "errors") with each replication. Copying is the engine of cultural progress. It is not "stealing." It is, in fact, quite beautiful, and leads to a cultural diversity that inspires awe.
How: On January 6, 2010, I emailed my Free Culture Lunch friends:
Who wants to join me on a Free Culture field trip to the Met Museum? It's research for "Minute Meme #(2): All Creative Work Is Derivative" ( http://questioncopyright.org/minute_memes ). Where better to see real, historical examples of art influencing other art than the Met?

The goal would be to find clear examples of visual language evolution. The Met is huge, so we could split up and then regroup to discuss our finds. Or we could all look at one part together, discussing as we go along. I think they allow photography as long as there's no flash. It would be educational, anyway, and that's good, right? I almost never go to museums and I live in New York.

I was very affected by a South Asian sculpture exhibit I saw at the Met years ago (I was early in producing "Sita" and still seeking Ramayana art) which made it very clear how ancient Greece and India were cross-pollinating each other. There was one period in which Greek and Indian sculpture were almost indistinguishable. This is especially striking since we're taught "Western" and "Eastern" history are separate; when the British colonized India centuries later, it was like a lost exotic land to them. That was just one tiny little part of the giant Met, and unexpected….
And so, on January 17, it came to pass: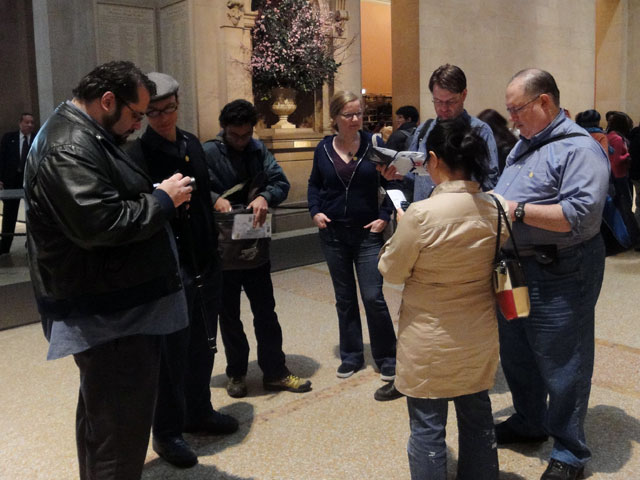 Clockwise from Left: Mike, Robert, Sundar, Caroline, Kai, Barry, Winnie. Jenn arrived slightly later.
In an heroic effort, I managed to run through the Greek/Roman, Asian (South, South East, and Central) and Medieval European galleries. I took 482 photos that day, not knowing exactly what I was looking for. I spent the following week going through each photo, adjusting levels and contrast, and wondering what I'd do with them. Gradually I saw the possibility of animating continuous movements using poses from historical works. The photographs I had weren't sufficient, which led me to return to the Met by myself on January 26. This time I had a better idea of what kind of photos I wanted: "full-body" shots of specific poses. I took 432 more photos, this time covering Egypt, Oceania, and the Americas.
914 photos total. I carefully examined and adjusted almost every one. 435 of them made it into a folder called "Poses," where I sorted them into categories: Standing, Sitting, Kneeling, Walking, Couples, Dancing, Running, Angels, Christ/Cross, Madonnas, Animals, and Other. Some of those categories obviously didn't make it into the finished movie; for example, these Madonnas: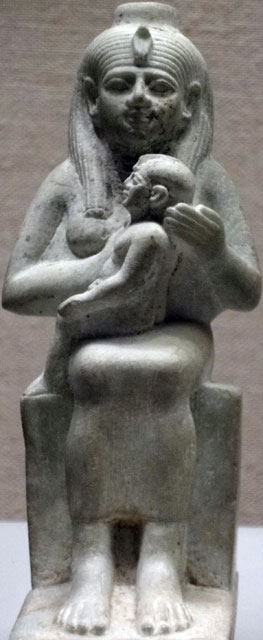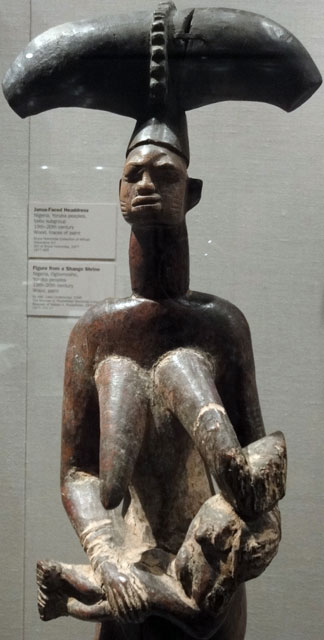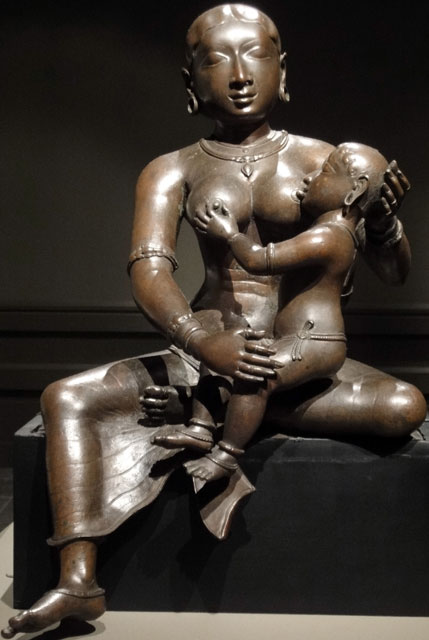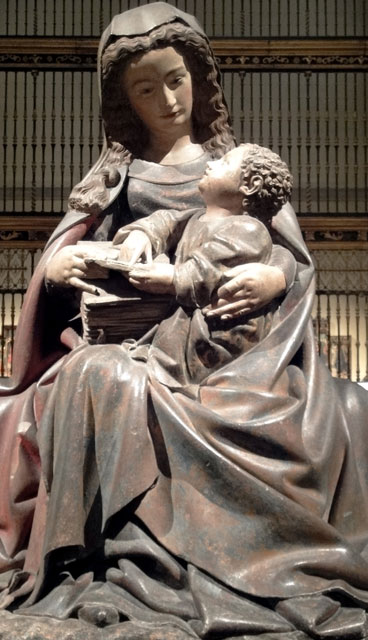 Once I sorted the poses, I masked them in Flash (tracing by hand with my trusty Cintiq stylus) to give them a clean vector edge. If I'd removed the backgrounds in Photoshop, they'd have pixellated edges, which would look "buzzy" in the finished animation.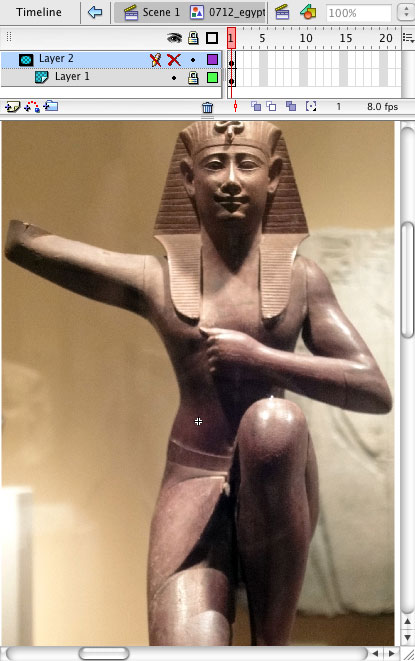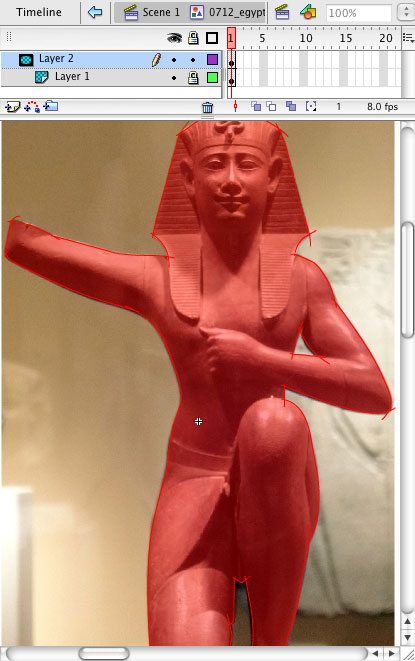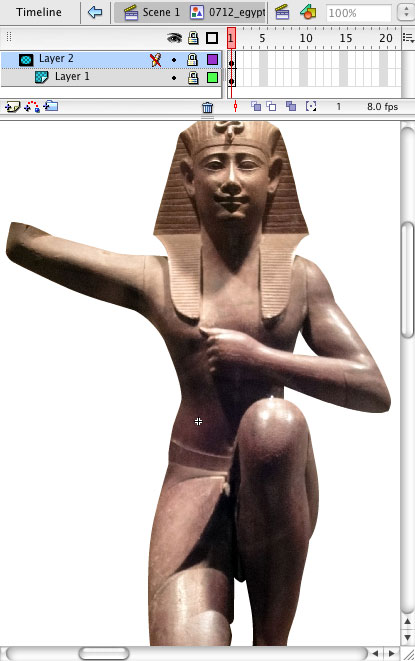 Although I didn't mask all of the photos, I did mask many I didn't end up using. But once I found the right ones, it was pretty easy to put everything together. 112 photos made it into the finished piece (my counting is fallible, it may be slightly more or less, but I counted 112 in the Flash file's Library.)
I animated on 3's, meaning 3 frames per image/8 images per second (at 24 frames per second). Usually I animate on one frame per image/24 images per second, so animation-wise, this is in some ways my crudest, choppiest film. But the frame rate needed to be slower to give the eye enough time to see some of the detail in each photograph.
The whole movie is a single "take." There are no cuts, zooms, pans, scene changes, or closeups. It's usually hard to sustain interest without such editing techniques, but in this case they would have confused the eye and muddied up the experience. This movie demands a lot of concentration from the viewer, and too many tricks would distract more than help.
The music is Sita's String Theory by genius Todd Michaelsen, who composed much of the score of Sita Sings the Blues. It is a "bonus track" he contributed to the upcoming official soundtrack CD. While listening through the entire CD master at Greg Sextro's studio, I realized Sita's String Theory would make a fine track for All Creative Work Is Derivative. It was CC-BY-SA licensed already, making it legally compatible with the project. Its beat is a denominator of 24fps, so it would work with my animation. And of course it sounds wonderful.
---
One person's "influence" is another's "infringement." A time-travelling IP lawyer could find all kinds of infringements at the Met. Greeks, Egyptians, and South Asians influenced each other heavily; was this "borrowing," "stealing," or "copyright infringement?"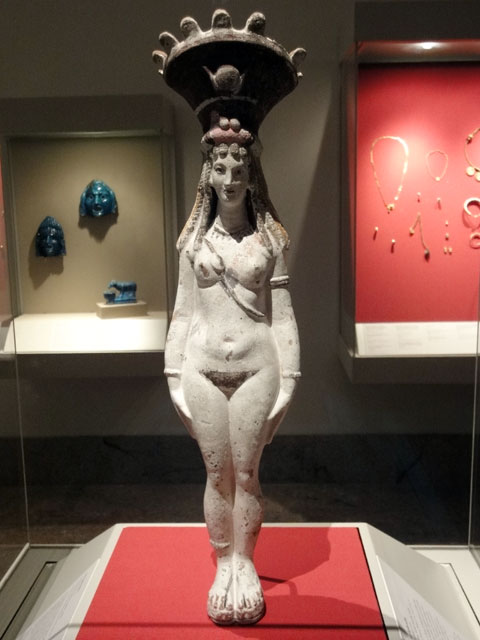 This chick is an Ancient Egyptian!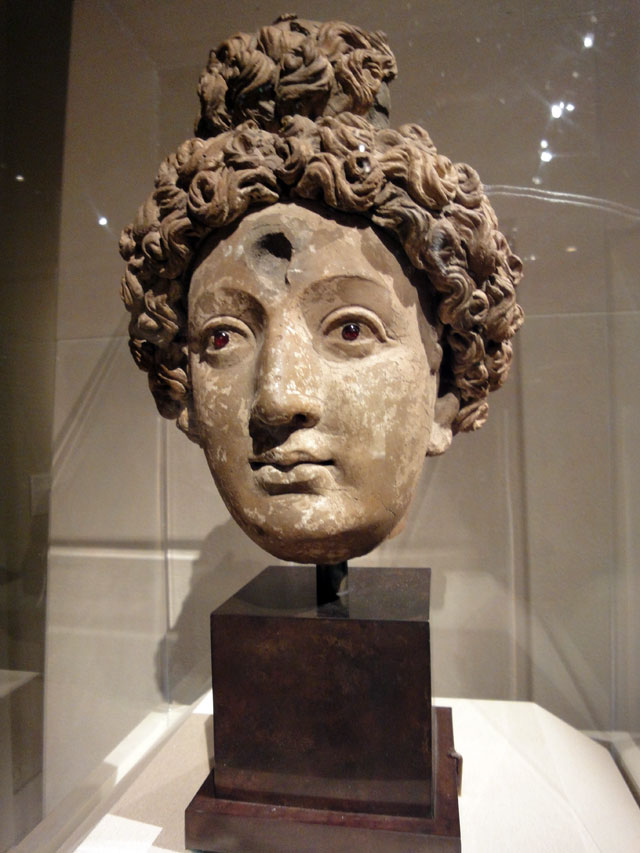 Does this head look Greek to you? Well it's from what is now Pakistan.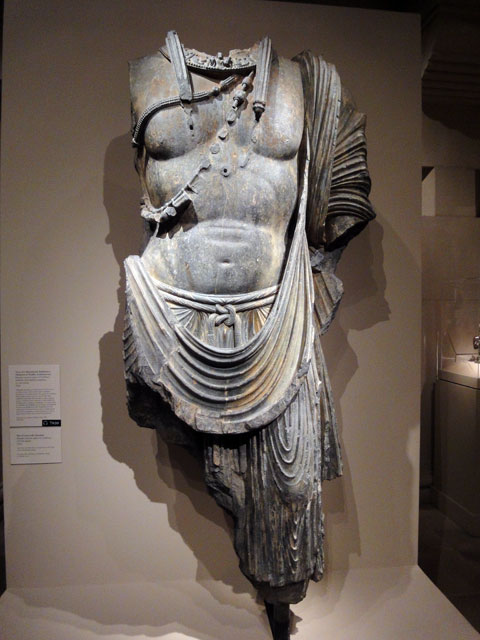 Same with this headless dude.
And whose idea was it to put bird wings on mammals? Could the ancient Egyptians sue the ancient Greeks and Medieval Europeans for trademark infringement?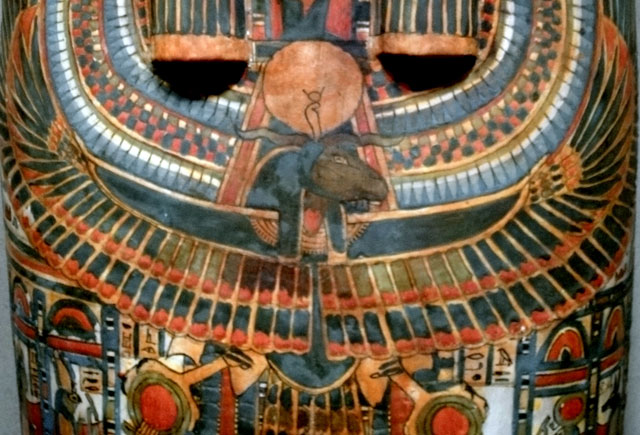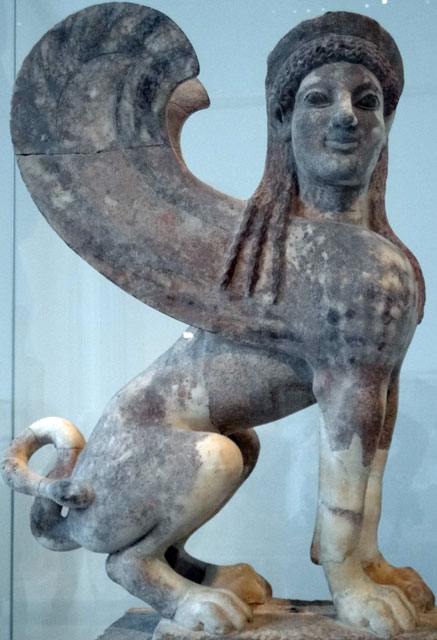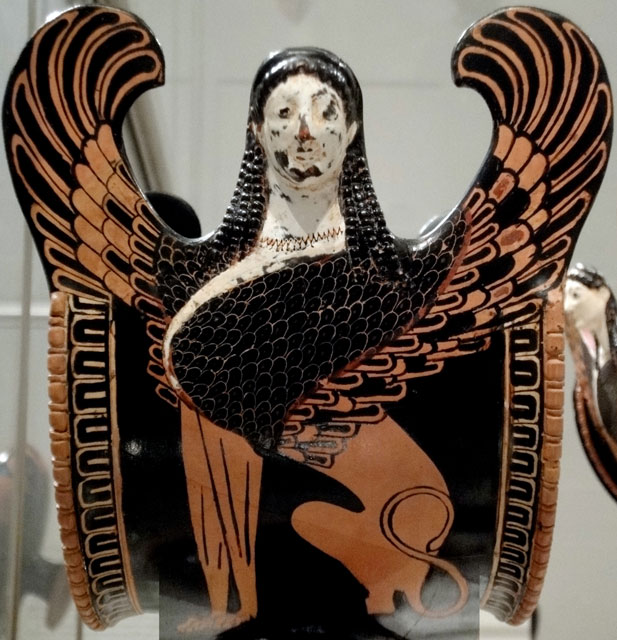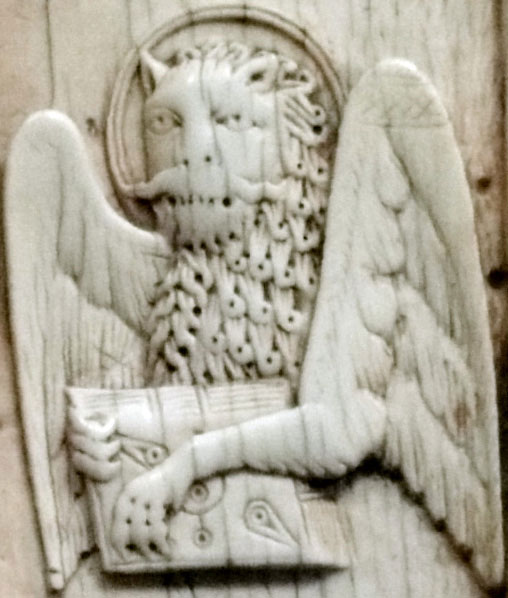 What derivations are transformative? Do we really want lawyers and judges determining what "transformative" is and is not? Do we want cultural progress dictated by the courts at all?
A copyright maximalist would say that this movie is uncreative, as though I used photos of old sculptures because I was too lazy to make my own. I didn't use historical works because I'm lazy. But even lazy artists shouldn't risk lawsuits, fines, and jail.
Or maybe the copyright maximalist would say this movie is creative, because I only photographed non-copyrighted works. But why should the legal status of the work I'm building on have anything to do with how "creative" my work is? The maximalist is working for the day when all works are copyrighted, and all culture is property. No longer shall anyone be able to build on works from the past, be it 5 minutes or 5 millennia ago.
Until that day arrives, I'll see you at the museum.