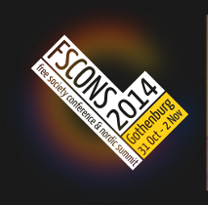 FSCONS 2014 in Göteborg, Sweden is wonderful: a whole conference of people deeply committed to freedom and actively implementing it.
My keynote talk at 2pm today is entitled "Invisible Monopolies and the Language of Freedom"; clicking that link will take you to the slides.
Among other things, I'll be talking about the origins and history of copyright, about censorship of translations, about the words we use, about the Declared-Value System, and of course about the BookLiberator (which you can buy from our online store or build yourself).
That's all for now.  Back to the conference!