If you're building a book scanner (such as a Decapod or BookLiberator), you might find this information useful: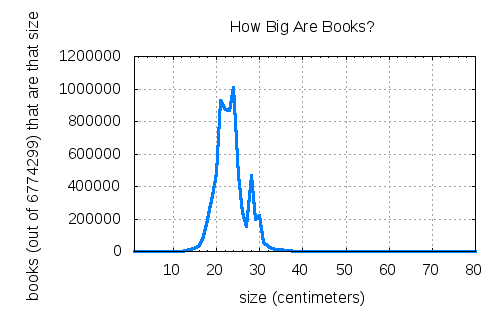 Summary: after surveying 6.7 million books, 30cm seems to be the sweet spot — if your scanner can handle that, then you should be able to scan most books.
---
Raw data courtesy of the Internet Archive, which hosts book data supplied by the Library of Congress and the Open Library project. See LC's "Books All" files (to 2006), and the Open Library's JSON data dump (which includes information from libraries other than LC, from Amazon, etc). The LC data is in MARC format with the size in centimeters in field 300 $c. The OL data has size in the 'physical_dimensions' field, in centimeters except as otherwise specified (e.g., "11 x 9.4 x 0.7 inches").