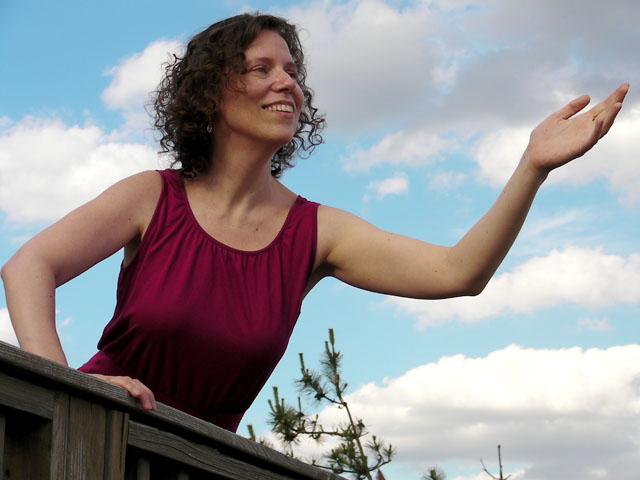 Travels From: New York City
Topics: Free Culture, Censorship, Copyright, Open Knowledge, Art, Comics, Animation, Peer to Peer Sharing as Culture
Nina Paley is an accomplished filmmaker, cartoonist, animator, and free culture activist. Over her 20 plus year career, she has produced internationally syndicated comic strips and award-winning films that have screened at such acclaimed film festivals as the Berlin International Film Festival, Tribeca Film Festival, and Sundance. The ordeal Nina faced trying to get music clearances for the public domain music she used in her feature film Sita Sings The Blues had a profound effect on her and inspired her to commit herself to employing free culture principles in her own work and to encourage other creatives to do the same. See this March 2011 article from The Epoch Times to read about Nina's experience.
See excerpts from a speech Nina delivered at the 2010 H.O.P.E. Conference below:
Nina is available to talk about many issues related to her experience as a working free culture artist. Recent topics have included:
Sita Sings the Blues

Free Culture Principles
How to Free Your Work


Cultural Mash-ups

Censorship

Art and Freedom

Copyright Law and Its Alternatives

Free Culture and Free Software
PAST APPEARANCES

Colleges & Universities

Grinnell College

Bucknell University

University of Chicago

Duke University

Boston University

American University

University of Iowa

Harvard University

Reed College

Tulane University

Brooklyn College

UMBC Maryland

University of Pennsylvania

Hampshire College

South Dakota State University

St. Paul's School (private high school)

F.I.T. (Fashion Institute of Technology)

Albright College

Queens College
Wesleyan University

Syracuse University

School of Visual Arts
SUNY Stonybrook
New School University
Philadelphia University


Baruch College


Conferences

Open Knowledge Conference (OKCon) Berlin – Keynote July 2011

University of Pennsylvania IP Law Symposium – panelist March 2011

NY Law School, Innovate-Activate UnConference Sept. 2010

IP Law Conference Sept. 2010

DebConf, NY August 2010

Pratt Manhattan – Copy/Right Conference, May 2010

CUNY Open Access – Oct 2010

NY Comic Con panel, Oct 2010
Iona College, New Rochelle NY, IP conference – April 2010


Power to the Pixel, London – conference talk, Oct 2009

Open Video Conference, NY June 2009

O'Reilly Tools of Change conference, NY 2009

Museums & Arts Centers



MoMA NY

Metropolitan Museum of Art, NY

Rubin Museum, NY Century Club, NY

Cartoon Art Museum/EFF, San Francisco

Wexner Center for the Arts, Ohio State University

Symphony Space, NY

IFC Film Center, NY

92nd St. Y, NY


ToonSeum, Pittsburgh