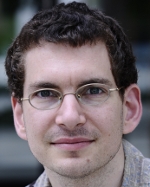 Travels From: New York City
Topics: Free Culture, Free Software Projects, Censorship, History of Copyright, Open Government, Open Source Projects
 Open source developer, author, and copyright reform activist Karl Fogel  is the founder and executive director of QuestionCopyright.org. After working on CVS and writing Open Source Development With CVS (Coriolis, 1999), he went to CollabNet, Inc as a founding developer in the Subversion project. Based on his experiences there, he wrote Producing Open Source Software: How to Run a Successful Free Software Project (O'Reilly, 2005), which is a highly-cited resource in the open source community. After a brief stint as an Open Source Specialist at Google in 2006, he left to found QuestionCopyright.org. In addition to  QuestionCopyright.org, he also serves as Open Civics Development Specialist at Civic Commons and sits on the board of the Open Source Initiative.
Karl has spoken about open source and open culture at numerous conferences including O'Reilly's OSCON, WordPress's WordCamp conference as well as at such prestigious universities as Columbia and Stanford.
See a speech Karl delivered at WordCamp 2010, a gathering of WordPress users and developers, below: