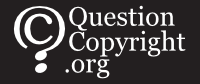 QuestionCopyright.org's privacy policy:
Question Copyright is committed to a high level of transparency in its activities and in its sources of income, to the extent that such transparency is compatible with reasonable expectations of privacy on the part of donors, volunteers, other associates, and web site visitors.
We show donation records in aggregate and individually, but anonymized in both cases.  Our tax returns may show the identities of large donors, especially institutional ones.  In general we don't absolutely guarantee the privacy of any donor unless we make such a guarantee to someone explicitly, but in practice most donors names are not displayed publicly, only the dates and amounts of their donations.  If this absence of guarantee appears to be an issue for donors, we will change our donation system to make a stronger privacy guarantee and to make clear under what circumstances a donor's name would be publicly discoverable.
We do not sell, rent, or trade our web site logs, visitor lists, or customer information from our online activism store.  We do share the names of store customers with authorized partners who help us manage the store, and in keeping with our policy of transparency, we publish aggregate sales data in anonymized form.
We do not by default guarantee the anonymity of any volunteer or correspondent.  We ask that those who wish to remain anonymous please tell us so.
QuestionCopyright.org anticipates compliance with all U.S. laws regarding cooperation with law enforcement authorities in the event that we are ever asked to provide web site logs or other identifying information about donors, web site visitors, or volunteers and associates.  As of 20123-01-11, no such request has ever been made.