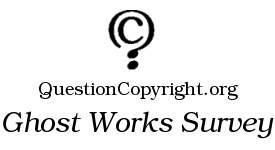 We're launching the Ghost Works Survey, and you can help.
The Ghost Works Survey is a project to investigate how often, and in what ways, copyright prevents artists from making new derivative works.
In the article "Seen Any Ghost Works Lately?", we defined a ghost work as a creative work that never got made, or was made but not released, because copyright concerns prevented it from being started or from being distributed. Since then, informal conversations with artists, publishers and others have made it very clear that such suppression is a common event, much more common than most people think. But the public rarely hears about it, because no one does publicity for a work that doesn't exist.
The purpose of the Ghost Works Survey is twofold: to demonstrate the scope and scale of this phenomenon by gathering and organizing as much data about it as we can, and to highlight compelling individual stories of artists and other creators who had their work thwarted by copyright restrictions. The survey will not attempt to catalogue every ghost work — there are likely far too many, given that almost every artist we've talked to so far has a story of a work they had to alter or lay aside due to copyright concerns. Rather, we'll focus on qualitative results: we want to collect enough stories to discern large-scale patterns, so we can understand and publicize the effects of copyright suppression. For more information, see the projects page.
If you want to help, or are interested but want to know more before committing, please send an email to:
The time commitment will only be as great as you want it to be — we'll need help with tasks both large and small. Since much of the project involves receiving and processing stories from artists, our capacity is directly proportional to the number of volunteers: the more people are involved, the more we can do! QuestionCopyright.org can provide technical infrastructure and planning, but there is no substitute for human minds.
We'll also need some volunteers willing to take on specific responsibilities: for example, a maintainer for a MySpace page and a maintainer for a Facebook page (because we need to make it as easy as possible for people to send us stories).
And we welcome ideas, of course — please leave suggestions as comments on this article.