Questioncopyright.org Newsletter – Summer 2011

Contents
Introduction

Dear QuestionCopyright.org Supporter,
Thanks for taking the time to read our newsletter.  We hope you like what you see, and are encouraged to take an active part in building a world where freedom from monopoly is the norm.  It's been an active summer at QuestionCopyright.org, though we took a little time out for relaxation too. Since newsletters tend to highlight results, one thing not adequately reflected in the individual news items below is the increased volunteer activity at QuestionCopyright.org.  While we're always grateful for monetary donations — all of our programs have expenses — we're also grateful to the many people who have donated their time and skills to a cause they believe in.  If you'd like to be one of them, please see the "How to Support QCO" section below.  Or if you support the cause but don't have time to volunteer, consider displaying one of our link badges.  The more often people see copyright restrictions being questioned, the more acceptable it will be to question copyright!
Karl Fogel
Founder and Executive Director, QuestionCopyright.Org
QuestionCopyright.org Projects

The Speakers Bureau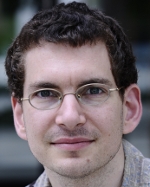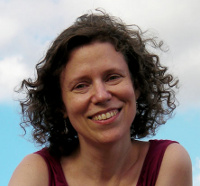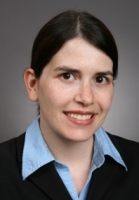 You may not have realized it, but experts from QuestionCopyright.Org can and do give public speaking engagements on issues surrounding copyright, free software, and free culture. In order to make these speakers more available to the general public, we have created The Speakers Bureau. Click here to learn about our speakers and how you can bring them to your event!
The Newest Minute Meme "Credit Is Due"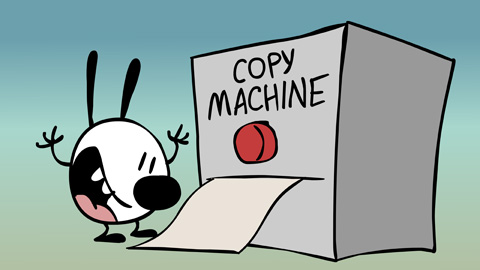 Our latest Minute Meme "Credit Is Due (The Attribution Song)" hit the internet in June 2011, with animation and song by QCO Artist-in-Residence Nina Paley, music performed by Bliss Blood and Al Street, and sound design by the inimitable Greg Sextro.  It's been a decided success so far: we can measure 18,000 views on YouTube alone in the in two months since its release, and the video file has also been downloaded from the Internet Archive more than a hundred times.  While there's no easy way to track further viewings that those downloads might be the seeds of, we love to hear from viewers: if you encounter one of our Minute Memes somewhere interesting, please let us know!  "Credit Is Due" explores the relationship between copying and attribution, shows how increased copying leads to better attribution practices, and drives a wedge into the false pairing of unauthorized copying and plagiarism. If you haven't seen it, or if you just want to watch it again, click the image above. The Minute Memes are produced with the generous support of The Andy Warhol Foundation for The Visual Arts — and by donations from supporters like you!

New Italian version of "Copying Is Not Theft" Minute Meme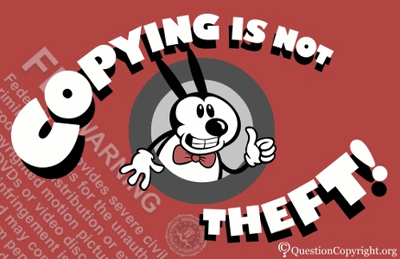 In early June, we received yet another version of our popular first Minute Meme, "Copying Is Not Theft", this time in Italian. It features singing and wacky sound effects by Mark Di Giuseppe a.k.a. "The Legendary Straniero". Click the image above to check it out!
We also continue to receive new subtitle translations for all our Minute Memes and Sita Sings The Blues; if you'd like to make a new one, please do!  You can use the Universal Subtitles tool to create and view subtitles in any language; check it out here on the "Copying Is Not Theft Page".
The Creator-Endorsed Mark Offered for New "Software Freedom Day" Song

We were recently contacted by the friendly team over at 8LayerTech in Pasig City, Philippines inquiring as to whether they could offer use of the C-E mark as an option to anyone contacting them to use their catchy new tune "Celebrate Software Freedom Day Song". We, of course, said "of course", because the C-E trademark is there for everyone. You can listen to the song here, and also perk your ears up for people playing it on Software Freedom Day, which falls on September 17th this year.
The Creator-Endorsed Mark

Questioncopyright.org developed the Creator-Endorsed Mark in 2009 in order to help distributors show that they have endorsement from the creator for the manner in which they are distributing the creator's work. As more and more creators freely circulate their works on the Internet, the mark provides a reliable way for non-exclusive publishers to signal to their customers when some percentage of their sales is going towards supporting the artist. 
We are working with our legal counsel Karen Sandler and our legal intern Vlad Vidaeff to officially register the Creator-Endorsed Mark as a trademark for use in the distribution of creative works. We will let you know when the registration is complete. In the meantime, you can learn more about the CE Mark here.
QCO at Open Video Conference 2011
In order to better engage our likeminded peers, and as part of the process of developing a series of artist workshops that will teach artists how to freely distribute their creative works, we will be participating in the "Creating Alternative Copyright Education" session at this year's Open Video Conference. Our Minute Memes project was cited in the session's description: "…Educational projects like the Electronic Frontier Foundation's Teaching Copyright curriculum, QuestionCopyright.Org's Minute Memes, and American University's Best Practices in Fair Use project have gone a long way towards introducing a more balanced perspective that challenges many accepted norms…". The Open Video Conference will take place from 10-12 September, 2011 at New York Law School in New York City. Keep an eye on this site for more details about the session, our takeaways, and the artist workshops.
QCO In The News
QCO Minute Memes in Jornal do Brasil

In a June 27, 2011 article in Jornal do Brasil, our "Copying Is Not Theft" Minute Meme was used to illustrate one of the main tenets of the Brazilian Pirate Party. According to this article, the Pirate Party plans to make a serious political bid in the country's 2014 elections.

QCO Appearing in Unexpected Places

University of Minnesota copyright-program librarian Nancy Sims is profiled in this May 29, 2011 article in The Chronicle of Higher Education. She lays out many of her ideas as well as a table full of her open distribution-related stickers and buttons, and QCO's "If You Don't Talk to Your Children About Copyright, Who Will?" bumper sticker is among them.  No, it wasn't planted, and we're very happy to see librarians raising consciousness of copyright's restrictive effect on education. You can purchase that sticker in the QCO store.
And our newly-released "Credit Is Due" Minute Meme (see earlier) has already been featured on The Libertarian Standard — and reposted at the Center for the Study of Innovative Freedom with this blunt description:  "But without copyright what's to stop people from copying my work and passing it off as their own!" whines the unthinking copyright supporter. Well, here's one answer.
While QCO takes no political position beyond our opposition to copyright restrictions and is not a libertarian organization — nor liberal, nor conservative, nor communist, nor anything else — we've been struck by the increasing awareness within the libertarian community that copyright restrictions are incompatible with true freedom of communication and of expression, and welcome the support.
Creator-Endorsed Mark Featured in Cory Doctorow discussion in LocusOnline
In his consideration of new models for artist engagement with secondary creators, acclaimed writer and copyright reform activist Cory Doctorow discusses QCO's Creator-Endorsed Mark in this July 5, 2011 article for LocusOnline.
QCO Artist-in-Residence Nina Paley

Acclaimed filmmaker and cartoonist Nina Paley has been artist-in-residence with QuestionCopyright.org since 2009. Here is new of her recent activities.
Nina Rocks Kickstarter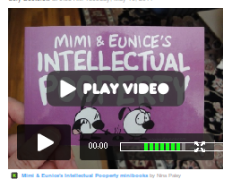 In May 2011, Nina decided to test the Kickstarter waters and find out if she could raise $3000 in 30 days in order o print out a couple thousand of her Mimi & Eunice's Intellectual Pooperty minibooks. Well, that amount was raised in just under 2 days and the Kickstarter ended with Nina having deftly raised over $8,000. The books have gone out to the Kickstarter backers and to QCO supporters, and are also available in the QCO store.

The Rantifesto
At this year's Open Knowledge Conference in Berlin, Nina presented her views on the relationship between the four freedoms of free software and the freedoms of free culture. The ideas expressed in this piece, called the "Rantifesto",have been the cause of very lively debate throughout the world of free culture and free software and have been discussed on numerous blogs and websites including NetworkWorld and ComputerWorld UK.
GEMA Takedown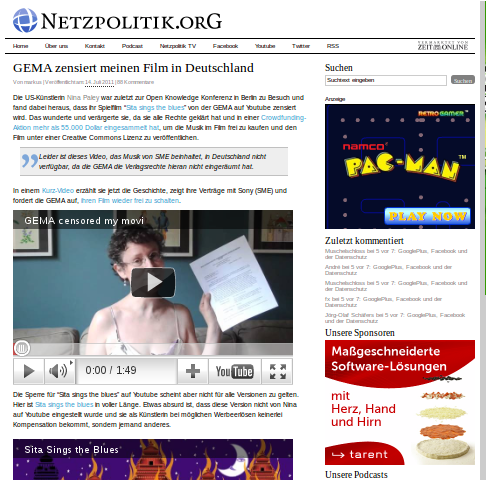 Encouraged by friends and fans after her appearance at this year's Open Knowledge Conference, Nina took on GEMA (the German publishing rights organization) to challenge the blocking of Sita Sings The Blues on German Youtube. Her appeal was covered in many prominent news outlets including Netzpolitik, The New York Times Online, and Der Spiegel Online. The block, which had been in place for more than a year, was lifted soon afterwards, and German viewers can now see the film in its entirety on YouTube.  While proving cause and effect is difficult, it seems likely that Nina's campaign was the reason, and we hope other similarly blocked artists will follow her example.

Culture Is Anti-Rivalrous
Nina's recent Techdirt article "Culture Is Anti-Rivalrous" was recent lauded on The National Review blog.
Appearances
Nina has also given talks or attended screenings at the following venues/events:
Sita Sings The Blues
You can still give to the Sita Distribution project in support of Nina's award-winning freely-distributed film Sita Sings The Blues. We are almost 80% of the way to being fully-funded. Click here to learn more and give what you can.
How To Support QuestionCopyright.org
1) Donate.
2) Join the cause!  If you'd like to volunteer, we especially need help in the areas of graphic design, web design, legal assistance, editing, and grantwriting. Drop us a line!
3) Represent – Put an I Question Copyright  badge on your site or rock a t-shirt or sticker from our store.
4) Share our fun and informative videos and websites with others:
Further Information
QuestionCopyright.Org is a 501(c)3 non-profit organization; donations are fully tax-deductable in the U.S. to the extend permitted by law.