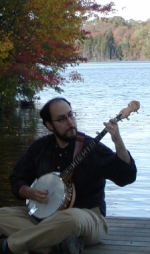 Reader Ben Collins-Sussman sent us this letter after watching a group of hobbyist banjo players in an Internet forum shy away from sharing music because they were worried about copyright issues. It's hard to add to Ben's eloquent outrage, but we should step back and ask: how did we get here? When did the inconceivable become everyday? When did musicians start censoring themselves as a matter of course? (Notice how copyright issues actually come up twice, independently, in the forum Ben points to. That's two times in a discussion that's only nineteen posts long. It would be nice if this were somehow exceptional… but sadly, it's not.)
Here's Ben's letter:
I frequent exciting websites like www.banjohangout.org, where banjoists from all over the world (all 12 of us!) talk about banjos, songs we like, how to play things, and so on.
This forum thread is depressing:
People are talking about how much they like this recording of a new piece of banjo music by Steve Martin (yes, it's the same Steve Martin!), and saying how happy they are that Steve tabbed it out into a monthly banjo magazine. At some point, somebody asks if anyone has the tab written out for the banjo 'accompaniment' played against Steve's banjo in the recording (by the famous Bela Fleck). Somebody else responds that Bela Fleck's teacher, Tony Trischka, taught him (in person) how to play the accompaniment, but is afraid to write it down on paper and share it with others, because of possible "copyright issues."
For centuries, musicians have been teaching and learning from each other, imitating and improvising together… and now we have some hobbyists who are afraid to show each other how one particular person happened to improvise some accompaniment on one particular recording? Yeesh.